Tommy Larraguibel
Partner & Realtor®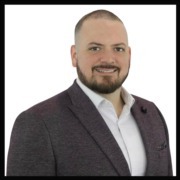 Meet Tommy, your trusted real estate professional who goes above and beyond to make your real estate dreams come true. With a passion for the industry and an unwavering dedication to his clients, Tommy is the realtor you can count on to provide exceptional service every step of the way.
Client-Centric Approach
Tommy's clients are at the heart of everything he does. He understands that buying or selling a home is one of the most significant decisions in a person's life, and he takes that responsibility seriously. Tommy listens attentively to his clients' needs and aspirations, ensuring that every transaction is tailored to their unique preferences and goals. He believes in building lasting relationships and treats each client as if they were family.
Knowledgeable Expertise
Tommy's deep knowledge of the real estate market is second to none. He stays current with industry trends, market fluctuations, and local developments to provide clients with the most accurate and up-to-date information. Whether you're a first-time homebuyer or a seasoned investor, Tommy's expertise ensures you make informed decisions that align with your financial objectives.
Passion and Enthusiasm
Real estate isn't just a job for Tommy; it's a true passion. He thrives on the thrill of finding the perfect property or securing the best deal for his clients. Tommy's enthusiasm is infectious, and it's clear that he genuinely loves what he does. His excitement and energy are palpable, making the home buying or selling process an enjoyable experience for his clients.
Eager and Driven
Tommy's determination to excel in the real estate industry is unwavering. He's not content with mediocrity; he strives for excellence in every transaction. Tommy is known for his proactive approach, always going the extra mile to meet his clients' needs. He's eager to tackle any challenge and is relentless in his pursuit of the best outcomes for his clients.
Hardworking and Committed
Tommy's work ethic is nothing short of exceptional. He understands that the real estate market is dynamic and fast-paced, so he's always on the ball. Whether it's working late into the evening, conducting thorough market research, or negotiating tirelessly on your behalf, Tommy's commitment to your success is unmatched.
When you choose Tommy as your realtor, you're not just getting a real estate agent; you're gaining a dedicated partner who will be with you every step of the way. With his knowledge, passion, dedication, eagerness, and hard work, Tommy is the realtor you can trust to turn your real estate aspirations into reality. Contact Tommy today, and let him guide you on your journey to finding your dream home or achieving your real estate goals.